Corvettes For A Cure
2007 Event Summary
2007 Event Raises almost $4000!
Because of the fantastic attendance and participation, we raised almost $4,000 that was be donated directly to the Delaware Valley Alzheimer's Association! There were 115 cars in attendance – up 25% (from 92) last year. This brings our 4 year total to $9,400! Next year, our goal is 150 cars and $5,000 raised.
Photos were taken by Photo Designs by Jody. To view and purchase photos from the show, visit the special section of her Web site.
Photos were also taken by Mike Gross (Iron82). You can also view his collection.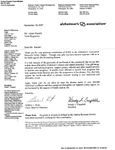 Wendy Campbell, the President of the Delaware Valley Chapter of the Alzheimer's Association, joined us to share some insights about Alzheimer's disease. To learn more about Wendy, click here. Click the image on the left to read the letter from the association.
Event Highlights:
Participant judged show with trophies for 1st, 2nd & 3rd place winners for all six generations of Corvettes: C1, C2, C3, C4, C5 & C6 plus a Custom class.
Best of Show trophy & Best Club Attendance trophy
Special Guest Lance Miller awarded the 2nd Annual "Lance Miller's Choice" trophy!
Great Door Prizes & Special raffles
About Our Beneficiary:
For more information about what you can do to help fight Alzheimer's Disease, please visit www.alz.org/desjsepa.
Information
CFAC HAS DISCONTINUED ITS ANNUAL EVENT
Please see the Home Page for details
2007 Winners
C1 - 1st Place
Mary Lou Gilbert - Elkton, MD
1957 Cascade Green Coupe
C1 - 2nd Place
Jack Dobbins - Collegeville, PA
1959 Black Convertible
C1 - 3rd Place
Ronnie & Joe Aufiero - Bensalem, PA
1961 White/Silver Convertible
C2 - 1st Place
Rick Ruediger - Collegeville, PA
1967 Red Convertible
C2 - 2nd Place
Karl Humma - Pottstown, PA
1964 Riverside Red Coupe
C2 - 3rd Place
George Rendell - Aston, PA
1965 Black Convertible
C3 - 1st Place
Thomas Biltcliff III - Topton, PA
1971 Mulsanne Blue Convertible
C3 - 2nd Place
Jeff Nonnemaker - Allentown, PA
1979 Black Coupe
C3 - 3rd Place
Bob Hamel - Collegeville, PA
1972 Warbonnet Yellow Coupe
C4 - 1st Place
William Corona Jr - Douglassville, PA
1996 Blue Coupe
C4 - 2nd Place
Randy Hofer- Collegeville, PA
1996 Black Coupe
C4 - 3rd Place
Eric Hulshart - Phoenixville, PA
1987 Black Coupe
C5 - 1st Place
John Burbich - Perkiomenville, PA
2003 Torch Red Coupe
C5 - 2nd Place
Joseph Sunder - Frenchtown, NJ
2001 Red Convertible
C5 - 3rd Place
Fred Steinolier - Lawrenceville, NJ
2000 Silver Coupe
C6 - 1st Place
Ronald Small - Langhorne, PA
2007 White Ron Fellows Convertible
C6 - 2nd Place
Rick Briggs - Upland, PA
2006 Orange Convertible
C6 - 3rd Place
Nora Shuda - Ewin, NJ
2005 Victory Red Coupe
Custom - 1st Place
Adam Wahl - Hockessin, DE
2004 Mag Red Coupe
Custom - 2nd Place
Larry Hamilton - West Chester, PA
2004 Blue Convertible
Custom - 3rd Place
Kerry Detwiler - Harleysville, PA
1973 Maroon Convertible
Best Club Attendance
Chester County Corvette Club
12 Corvettes Registered
Best of Show
Larry Gilbert - Elkton, MD
1957 Cascade Green Convertible
Lance Miller's
Choice
Michael Crank - Hockessin, DE
1998 Nassau Blue Coupe
Click here for 2006 Event Summary