Corvettes For A Cure
A Benefit For The Delaware Valley Chapter Of The Alzheimer's Association
Contact Info
Contact us
via email
or phone: 610-409-9047
About the Founder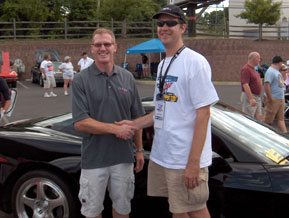 Lance Miller and Adam Wartell
Adam Wartell is the founder and organizer of Corvettes for a Cure. This well-attended Corvette show benefits the Alzheimer's Association, Delaware Valley Chapter. This year's show will be held in Collegeville, PA to raise funds to find a cure for a disease that affects hundreds of thousands of people every year.
Wartell founded the show to honor his grandmother, who at the time was sick with the Alzheimer's Disease and subsquently died in from it in 2005.
Wartell also owns the members-only websites C3 Vette Registry (C3VR), C4 Vette Registry (C4VR) and C6 Vette Registry (C6VR).
Aside from his registries, Wartell is a member of the Corvette Club of the Delaware Valley and an all-around Corvette enthusiast. He also participates in "Corvettes at Carlisle" in Carlisle, Pennsylvania.
"I wanted to find a way to raise funds for the Alzheimer's Association because of my Grandmother," Wartell said. "Corvettes for a Cure 2010 is our seventh year, and I know this show is only going to continue to grow to benefit more people living with this horrible disease."
For more information about what you can do to help fight Alzheimer's Disease, please visit http://www.alz.org/desjsepa.
Download Logos:
7th Annual CFAC logo Clear Background LARGE GIF (586k)
Information
CFAC HAS DISCONTINUED ITS ANNUAL EVENT
Please see the Home Page for details
Our Sponsors
Design Services provided by: M|Welsh Design